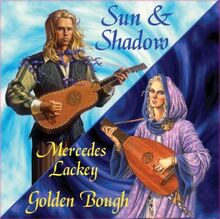 For other uses of 'Sun and Shadow,' see the disambiguation page.
From the Firebird Arts website: "At last the complete Sun and Shadow Song Cycle. The long awaited story of Sunsinger and Shadowdancer, set to music, with the complete story for the very first time. The album is a collaboration between Mercedes Lackey and the musical heart of Golden Bough- Paul Espinoza and Margie Butler.
"Golden Bough has been involved with Misty's music from the very beginning, and there could be no better choice to bring this magical tale to life.
"The album has a short introduction by Mercedes Lackey."
Song list
Edit
Available for purchase
Edit
See also
Edit
Ad blocker interference detected!
Wikia is a free-to-use site that makes money from advertising. We have a modified experience for viewers using ad blockers

Wikia is not accessible if you've made further modifications. Remove the custom ad blocker rule(s) and the page will load as expected.