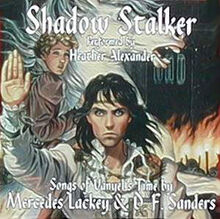 For other uses of 'Shadow Stalker,' see the disambiguation page.
From the Firebird Arts website: "Stunning lead vocals by Heather Alexander highlight expressive lyrics by Mercedes Lackey & D.F. Sanders. Music by Heather Alexander & Cecilia Eng, with all arrangements by Heather Alexander. This album introduces vocalists Shandeen & Loren Depping, guitarists Steve Einhorn & Randal Bays, and lute player Ron Andrico."
Song list
Edit
Available for purchase
Edit
Ad blocker interference detected!
Wikia is a free-to-use site that makes money from advertising. We have a modified experience for viewers using ad blockers

Wikia is not accessible if you've made further modifications. Remove the custom ad blocker rule(s) and the page will load as expected.