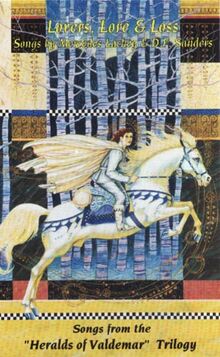 From the Firebird Arts website: "At last the continuation of the musical story started with "Heralds, Harpers & Havoc", is ready! Lovers, Lore & Loss tells the rest of the story from the "Heralds of Valdemar" trilogy. Rejoin Talia, Dirk, Selenay, and Elspeth as they love, and grieve in a time of war.
"Lyrics by Mercedes Lackey and D. F. Sanders finish telling the story started with Heralds, Harpers, & Havoc. Recorded at Desitrek Studio on a combination of 24 track and digital technology, the sound quality matches the talented folk who appear on the album. Margie Butler from Golden Bough adds her lovely voice to the album as Herald Talia, Shandeen lead vocalist from the band Falls Road, portrays Queen Selenay, Cecilia Eng as Princess Elspeth, Bill Roper as Healer Davon, and Steve Einhorn as Dirk. Paul Espinoza, Florie Brown, and Richard Ferry from Golden Bough contribute their considerable musical skill to round out the album."
Song list
Edit
Available for purchase
Edit
See also
Edit
Ad blocker interference detected!
Wikia is a free-to-use site that makes money from advertising. We have a modified experience for viewers using ad blockers

Wikia is not accessible if you've made further modifications. Remove the custom ad blocker rule(s) and the page will load as expected.