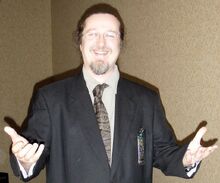 In addition to being Lackey's husband, Larry Dixon is the illustrator and coauthor of many Valdemar novels, as well as a contributor to the anthologies.
From Fantastic Fiction:
Larry Dixon lives with his wife Mercedes Lackey in 'the weirdest house in Oklahoma', where they run a sanctuary for birds of prey and an aviary for exotic birds.
The author/illustrator's website is:
http://gryphonking.aelfhame.net/
Larry Dixon's blog: http://gryphonking.blogspot.com/
Anthologies
Edit
Works by Tanya Huff have appeared in the following Valdemar volumes:
Standalone stories
Edit
Ad blocker interference detected!
Wikia is a free-to-use site that makes money from advertising. We have a modified experience for viewers using ad blockers

Wikia is not accessible if you've made further modifications. Remove the custom ad blocker rule(s) and the page will load as expected.