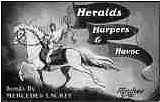 From the Firebird Arts website: "Meet the characters of the Arrows Trilogy as they sing about themselves and their world. Performers include: Mercedes Lackey, Margie Butler, Larry Warner, Kristoph Klover, Frank Hayes, Bill Roper, and Dominic Bridwell."
Song list
Edit
Available for purchase
Edit
See also
Edit
Ad blocker interference detected!
Wikia is a free-to-use site that makes money from advertising. We have a modified experience for viewers using ad blockers

Wikia is not accessible if you've made further modifications. Remove the custom ad blocker rule(s) and the page will load as expected.