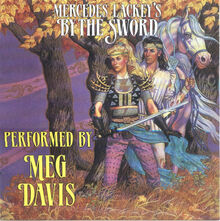 For other uses of 'By the Sword,' see the disambiguation page.
From the Firebird Arts website: "Companion tape and CD to the By the Sword novel. Vocalist and arranger Meg Davis's superb soprano voice provides the energy to capture the moments and moods of the book. The album starts with a recreation of the sack of Kerowyn's home that has to be heard to be believed. Music, special effects and recording wizardry combine for a truly wonderful experience."
Song list

 

Edit
Available for purchase
Edit
See also
Edit
Ad blocker interference detected!
Wikia is a free-to-use site that makes money from advertising. We have a modified experience for viewers using ad blockers

Wikia is not accessible if you've made further modifications. Remove the custom ad blocker rule(s) and the page will load as expected.